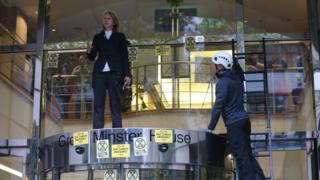 Extinction Rebellion activists are continuing protests despite a London-wide ban by police.
The group says it has taken initial steps towards a judicial review of the ban. Lawyers and politicians have also criticised the move.
Meanwhile climate change protesters targeted the Department for Transport and MI5 on Tuesday morning.
A government spokeswoman said protests "should not disrupt people's day-to-day lives".
Extinction Rebellion's co-founder, Gail Bradbrook, was arrested after climbing on to the entrance of the Department for Transport on Tuesday morning. Police also cleared further protesters from outside the building.
Activists have also been arrested on Millbank outside MI5's headquarters, where a small group had gathered. Two men briefly sat in the middle of the road before being moved by officers.
The Metropolitan Police began clearing protesters from Trafalgar Square on Monday evening following the announcement of new restrictions under Section 14 of the Public Order Act, which required activists to stop their protests in central London by 21:00 BST or risk arrest.
The force said it decided to impose the rules after "continued breaches" of conditions which limited the demonstrations to Trafalgar Square.
Extinction Rebellion said it had taken the "first steps" towards a judicial review of the Met's "disproportionate and unprecedented attempt to curtail peaceful protest".
"Our lawyers have delivered a 'Letter before Action' to the Met and asked for an immediate response," a statement read.
Tobias Garnett, a human rights lawyer working for the movement, said the letter warned police to withdraw the order, giving them a deadline of 1430 BST to respond, or else the group would file a claim in the High Court.
"We will be looking for an expedited hearing either today or tomorrow morning," he added.
The Met confirmed it had received "pre-action judicial review correspondence" alleging Human Rights Act breaches.
"The letter will be reviewed by the Met's Directorate of Legal Services, and we will respond to the claimant in due course," a statement read, adding it would be "inappropriate" to comment further.
Mayor of London Sadiq Khan has said he is "seeking further information" about the decision to impose the ban and why it was necessary.
"I believe the right to peaceful and lawful protest must always be upheld," he said.
A spokeswoman for the government said the UK was "already taking world-leading action to combat climate change".
The statement added: "While we share people's concerns about global warming, and respect the right to peaceful protest, it should not disrupt people's day-to-day lives."
Home Secretary Priti Patel tweeted that "supporting our [police] is vital" and accused the Labour Party of supporting "law breakers".
'Overreach of powers'
Meanwhile, lawyers have also questioned whether the ban by police is legal.
Anti-Brexit barrister Jo Maugham QC said the move was "a huge overreach" of police powers, while human rights lawyer Adam Wagner described it as "draconian and extremely heavy-handed".
Mr Wagner added in a tweet: "We have a right to free speech under article 10 and to free assembly under article 11 of the (annex to the) Human Rights Act. These can only be interfered with if the interference is lawful and proportionate. I think the police may have gone too far here."
Shadow home secretary Diane Abbott tweeted: "This ban is completely contrary to Britain's long-held traditions of policing by consent, freedom of speech, and the right to protest."
Allan Hogarth, of Amnesty International, issued a statement saying the ban was "an unlawful restriction on the rights to freedom of expression and peaceful assembly".
A number of demonstrations have been staged across the capital by Extinction Rebellion, which is calling on the government to do more to tackle climate change.
The protests were due to last two weeks and have led to more than 1,400 arrests.
The Met said there had been 1,457 arrests by 08:45 BST on Tuesday, in connection with the nine days of Extinction Rebellion protests in London.
Last week, the Home Office confirmed to BBC News that it was reviewing police powers around protests in response to recent demonstrations.
What are the rules around protests?
Police have the powers to ban a protest under the Public Order Act 1986, if a senior officer has reasonable belief that it may cause "serious disruption to the life of the community".
Police are also under a duty to balance the task of keeping the streets open with the right freedom of assembly under the Article 11 of the Human Rights Act 1998 and freedom of expression, under Article 10. These rights are not absolute – the state can curtail them.
However, the BBC's home affairs correspondent Dominic Casciani said: "The test, if and when it gets to a human rights court battle, is whether police action was proportionate to the threat and only what was strictly necessary."
By law, the organiser of a public march must tell the police certain information in writing six days in advance.
Police have the power to limit or change the route of the march or set other conditions.
A Section 14 notice issued under the Public Order Act allows police to impose conditions on a static protest and individuals who fail to comply with these can be arrested.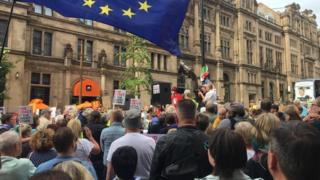 Demonstrations are taking place across the UK against Boris Johnson's decision to suspend Parliament in the run-up to Brexit.
Thousands of protesters have taken to the streets in cities including Leeds, York and Belfast.
In London, Whitehall has been brought to a standstill, with protesters chanting "Boris Johnson, shame on you".
The decision to prorogue Parliament prompted an angry backlash from MPs and opponents of a no-deal Brexit.
When Parliament is suspended, no debates and votes are held. This is different to "dissolving" Parliament – where all MPs give up their seats to campaign in a general election.
If this prorogation happens as expected, it will see Parliament closed for 23 working days.
Critics view the length and timing of the prorogation – coming just weeks before the Brexit deadline on 31 October – as controversial.
Chancellor Sajid Javid, speaking on BBC Radio 4's Today programme, defended the prime minister's move.
He said: "It's quite usual this time of year for Parliament to go in to a recess. It's perfectly correct and appropriate to prorogue Parliament.
"I think it's absolutely right that this prime minister and his government get the chance to set up their agenda."
Protests in towns and cities
Journalist and activist Owen Jones, who will speak at the London protest, said: "This is about defending democracy.
"We have an unelected prime minister shutting down the elected representatives of the British public who are supposed to be scrutinising the biggest upheaval since the end of the war.
"I think people who voted Remain or Leave should take to the streets today – no one voted for a no-deal Brexit.
"There will be Remainers [at the protests] but I've had Leavers get in touch with me and tell me they will be marching, too."
In Oxford, crowds holding banners gathered outside Balliol College, where Mr Johnson studied at university.
Protests are also set to take place in more than 30 towns and cities, including Edinburgh, Belfast, Cambridge, Exeter, Nottingham, Manchester, Glasgow and Birmingham.
Named "Stop the Coup", the protests are organised by anti-Brexit campaign group Another Europe is Possible.
The group also says there are protests planned in Amsterdam, Berlin and the Latvian capital Riga.
The Jo Cox Foundation, which was set up in the wake of the Labour MP's murder in 2016, warned that anger over Brexit "should not spill over into something more dangerous".
Meanwhile, a petition against the prime minister's plan to suspend Parliament has received more than a million signatures.
And on Friday, former Tory Prime Minister Sir John Major announced he will join forces with anti-Brexit campaigner Gina Miller to oppose the decision to suspend Parliament in the courts.
He believes Mr Johnson's move to suspend Parliament is aimed at preventing MPs from opposing a no-deal Brexit.
The prime minister has dismissed suggestions that suspending Parliament is motivated by a desire to force through a no deal, calling them "completely untrue".
Foreign Secretary Dominic Raab said: "The idea this is some kind of constitutional outrage is nonsense."
---
Are you at the protests? Share your photos and videos by emailing yourpics@bbc.co.uk
Please include a contact number if you are willing to speak to a BBC journalist. You can also contact us in the following ways: