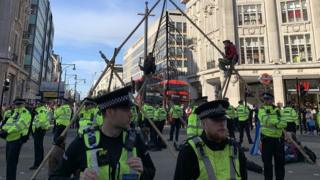 A police ban on Extinction Rebellion protests in London last month was unlawful, High Court judges have ruled.
The Metropolitan Police imposed the ban, which prevented two or more people from the group taking part in protests, under the Public Order Act.
But judges have ruled that police had no power to do this because the law did not cover "separate assemblies".
Activists say the police could now face claims for false imprisonment from "potentially hundreds" of protesters.
The Met said it would "carefully consider" the ruling.
The protests cost £24m to police and led to 1,828 arrests, with 165 people charged with offences, the Met says.
During the court hearing, the force had argued that the ban was the only way to tackle widespread disruption.
Announcing their judgement, however, Lord Justice Dingemans and Mr Justice Chamberlain ruled in favour of Extinction Rebellion.
Lord Justice Dingemans said: "Separate gatherings, separated both in time and by many miles, even if co-ordinated under the umbrella of one body, are not a public assembly within the meaning of… the Act.
"The XR [Extinction Rebellion] autumn uprising intended to be held from October 14 to 19 was not therefore a public assembly… therefore the decision to impose the condition was unlawful because there was no power to impose it under… the Act."
The judges noted that there are powers within that act which may be used lawfully to "control future protests which are deliberately designed to 'take police resources to breaking point"'.
During 10 days of climate change protests last month, activists shut down areas around Parliament and the Bank of England, and targeted London City Airport.
Police had previously warned protesters to keep demonstrations in Trafalgar Square, or risk arrest – before issuing a city-wide ban on 14 October, under Section 14 of the Public Order Act.
The court was told that the ban was issued on the same day as a message posted online by London activists.
It told protesters to adopt the "be water" tactics used by demonstrators in Hong Kong.
"Be water, crowds split up into fast moving groups and pairs, that network via phones," it said.
"You gather at particular spots in large numbers, until the police response building then you move to a new disruptive site."
The ban was lifted four days later, with officers saying that it was no longer necessary because demonstrations had ended.
Analysis
BBC home affairs correspondent Daniel Sandford
This was a radical tactic adopted by the Metropolitan Police on 14 October – banning all future Extinction Rebellion protests across London for several days.
But it has backfired. No police force likes to have their actions described as "unlawful".
Today's High Court ruling takes away from officers the ability to impose a city-wide ban of future protests, which means demonstrators wanting to be "like water" – where they split into fast-moving groups – will be difficult to control if they are trying to disrupt a whole city.
So police will have to deal with what is in front of them.
If a specific protest in a specific place gets out of hand they will be able to close it down, but it will have to be a decision made by an officer on the spot, and not by someone sitting in a police station worrying about what protests may happen the next day.
Responding to Wednesday's ruling, Extinction Rebellion UK tweeted "we won't be silenced".
Green Party peer Jenny Jones – who was among those to bring the legal challenge – described the ruling as "historic" and criticised ministers for speaking out in favour of the ban.
Met Assistant Commissioner Nick Ephgrave said the decision to impose the ban had been "reasonable and proportionate" and "was not taken lightly".
He added that the police "would not and cannot ban protest" and that the ruling was made specifically on whether officers could arrest demonstrators for assembling in central London.
"There is no criticism from me of the decision to impose the condition, which was made with good intent and based upon the circumstances confronting the command team at the time," he said.
"It did in fact result in the reduction of the disruption. Nevertheless, this case highlights that policing demonstrations like these, within the existing legal framework, can be challenging."
What does Extinction Rebellion want?
Extinction Rebellion's legal victory follows two weeks of protests in the UK last month.
The group (XR for short) wants governments to declare a "climate and ecological emergency" and take immediate action to address climate change.
It describes itself as an international "non-violent civil disobedience activist movement".
Launched in 2018, organisers say it has groups willing to take action in dozens of countries.
It uses an hourglass inside a circle as its logo, to represent time running out for many species.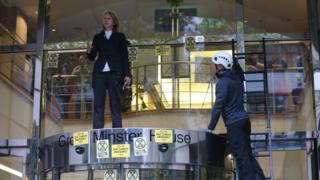 Extinction Rebellion activists are continuing protests despite a London-wide ban by police.
The group says it has taken initial steps towards a judicial review of the ban. Lawyers and politicians have also criticised the move.
Meanwhile climate change protesters targeted the Department for Transport and MI5 on Tuesday morning.
A government spokeswoman said protests "should not disrupt people's day-to-day lives".
Extinction Rebellion's co-founder, Gail Bradbrook, was arrested after climbing on to the entrance of the Department for Transport on Tuesday morning. Police also cleared further protesters from outside the building.
Activists have also been arrested on Millbank outside MI5's headquarters, where a small group had gathered. Two men briefly sat in the middle of the road before being moved by officers.
The Metropolitan Police began clearing protesters from Trafalgar Square on Monday evening following the announcement of new restrictions under Section 14 of the Public Order Act, which required activists to stop their protests in central London by 21:00 BST or risk arrest.
The force said it decided to impose the rules after "continued breaches" of conditions which limited the demonstrations to Trafalgar Square.
Extinction Rebellion said it had taken the "first steps" towards a judicial review of the Met's "disproportionate and unprecedented attempt to curtail peaceful protest".
"Our lawyers have delivered a 'Letter before Action' to the Met and asked for an immediate response," a statement read.
Tobias Garnett, a human rights lawyer working for the movement, said the letter warned police to withdraw the order, giving them a deadline of 1430 BST to respond, or else the group would file a claim in the High Court.
"We will be looking for an expedited hearing either today or tomorrow morning," he added.
The Met confirmed it had received "pre-action judicial review correspondence" alleging Human Rights Act breaches.
"The letter will be reviewed by the Met's Directorate of Legal Services, and we will respond to the claimant in due course," a statement read, adding it would be "inappropriate" to comment further.
Mayor of London Sadiq Khan has said he is "seeking further information" about the decision to impose the ban and why it was necessary.
"I believe the right to peaceful and lawful protest must always be upheld," he said.
A spokeswoman for the government said the UK was "already taking world-leading action to combat climate change".
The statement added: "While we share people's concerns about global warming, and respect the right to peaceful protest, it should not disrupt people's day-to-day lives."
Home Secretary Priti Patel tweeted that "supporting our [police] is vital" and accused the Labour Party of supporting "law breakers".
'Overreach of powers'
Meanwhile, lawyers have also questioned whether the ban by police is legal.
Anti-Brexit barrister Jo Maugham QC said the move was "a huge overreach" of police powers, while human rights lawyer Adam Wagner described it as "draconian and extremely heavy-handed".
Mr Wagner added in a tweet: "We have a right to free speech under article 10 and to free assembly under article 11 of the (annex to the) Human Rights Act. These can only be interfered with if the interference is lawful and proportionate. I think the police may have gone too far here."
Shadow home secretary Diane Abbott tweeted: "This ban is completely contrary to Britain's long-held traditions of policing by consent, freedom of speech, and the right to protest."
Allan Hogarth, of Amnesty International, issued a statement saying the ban was "an unlawful restriction on the rights to freedom of expression and peaceful assembly".
A number of demonstrations have been staged across the capital by Extinction Rebellion, which is calling on the government to do more to tackle climate change.
The protests were due to last two weeks and have led to more than 1,400 arrests.
The Met said there had been 1,457 arrests by 08:45 BST on Tuesday, in connection with the nine days of Extinction Rebellion protests in London.
Last week, the Home Office confirmed to BBC News that it was reviewing police powers around protests in response to recent demonstrations.
What are the rules around protests?
Police have the powers to ban a protest under the Public Order Act 1986, if a senior officer has reasonable belief that it may cause "serious disruption to the life of the community".
Police are also under a duty to balance the task of keeping the streets open with the right freedom of assembly under the Article 11 of the Human Rights Act 1998 and freedom of expression, under Article 10. These rights are not absolute – the state can curtail them.
However, the BBC's home affairs correspondent Dominic Casciani said: "The test, if and when it gets to a human rights court battle, is whether police action was proportionate to the threat and only what was strictly necessary."
By law, the organiser of a public march must tell the police certain information in writing six days in advance.
Police have the power to limit or change the route of the march or set other conditions.
A Section 14 notice issued under the Public Order Act allows police to impose conditions on a static protest and individuals who fail to comply with these can be arrested.